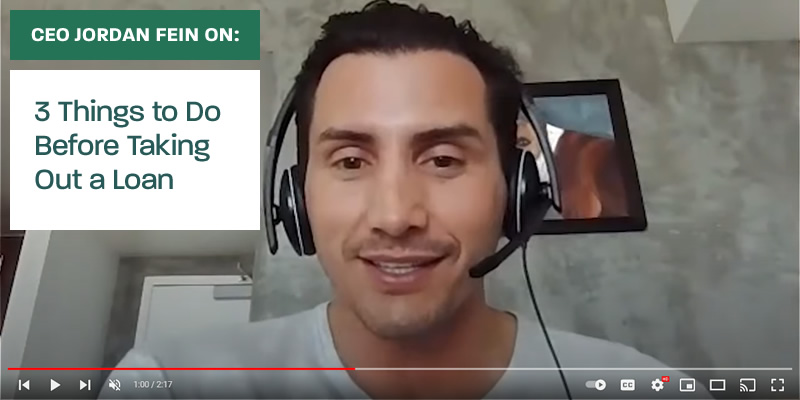 Greenbox Capital CEO Jordan Fein joined Smarter Loans to talk all things alternative business funding. In this video, Jordan outlines three things all small business owners should do before applying for or taking a loan. Keep watching to get Jordan's expert advice for setting expectations, preparing your business, and doing your research so you can understand your alternative business funding options before you apply.
Watch the video, or keep reading below for a full transcript.
SL: If you were making a list for a customer or a borrower or what he or she has to sort through or go through when they're looking for capital, what should they keep in mind?
JORDAN: I think setting expectations is king. That is number one—if you're a business and there's not collateral in the sense of homes, boats, money market accounts, which is what typical collateral looks like, you have to recognize you're getting capital against your revenue. And the revenue and the future's unpredictable. So understand that when you associate bank rates and bank interest rates at 3%, 4%, 5% for your home, you're not going to get that against receivables. There's much more uncertainty.
I think that if you're growing a business, you need to say to yourself "okay, I'm getting capital for what purpose?".
"Setting expectations is king. You have to recognize you're getting capital against your revenue. There's much more uncertainty."
If it is to increase your revenue and grow your business, yes, the cost matters, but the market sets the cost, right? The market creates it and sets the cost. If somebody out there says, "I'll give it to you for 1%", the market says 1%. If five funders come out and say, I'll give it to you at 20%, the market is 20%. Be open-minded to what the market is and collect many offers.
I've seen so many times where borrowers will literally say, "it's not 8% or 6% or 7%". Maybe they're a one-year business, which is high risk, and they don't realize that. And they're like, "I'm out!". Well look, making a decision based on that and not listening to what the market says is shortsighted if you're not considering what using the money for and how it's going help your business. That is huge to understand. That's the advice for people who feel what we call "rate shock", because they don't really understand that they're not the same thing as giving their home at 2%, 3%. People just don't know, it's new to them. They associate banks and loans with 3%, 4%, or 5% interest because that's what they got with their home or that's what they heard or that's what they think it is. But this is a newer space. This is against smaller business, which is unpredictable revenue. So that's number one.
Number two: You need to prepare your business for it. You need to make sure that when you're going to submit yourself, you want to make sure your bank statements are as clean as possible. You're paying your bills on time, and sometimes you're not, and sometimes that's maybe why you need capital. There's products out there to help that. But keep in mind that you're being assessed based upon many things. One of which, the main component is, how clean your bank statements are. Are your revenues coming in consistently? How are your average bank balances? Are your average bank balances consistent? Are you maintaining a decent average bank balance?
"You need to prepare your business for it. You want to make sure your bank statements are as clean as possible."
What is a decent average bank balance? At least 5%. Ideally you want to see 10%. And what does that mean, 5% or 10%? It's your average bank balance divided by your revenue. So your average bank balance is a function of revenue. 10% is really good. 5% is pretty much where you want to start at. Anything below that is considered quite low, and it could be problematic for getting good terms. Sometimes if it's too low, like below 3%, 2%, you might not get an offer depending on what the other details of your business may look like. So you've got to prepare your business, and you have to make sure that you're setting expectations.
Number three: Do some research. Go online, go to Smarter Loans—they have a great amount of websites to compare. Check reviews so you can try to get as much information as you can. You'll decide who you want to apply to.
Don't just apply to necessarily the cheapest rate because you don't know where you fall. You might think that your business is prime at one or two years in business, but it doesn't work like that. There's so many different data points that matter—the industry you're in, the time in business that you have, how clean your bank statements are, and what's on your background. Do you have any past collections, bankruptcies, tax liens, or judgments? And some companies will preach that they don't care about
"Do some research. Go online, go to Smarter Loans. Check reviews so you can try to get as much information as you can."
personal credit, and they don't and that's okay. There's products for that as well.
So you just want to apply to a couple that you feel really, really confident about, get some quotes, get some information, ask a lot of questions. I think that is some of the best thing you can do—be open-minded and just collect information. If you go into the transaction with your set expectations of how it's going to be, you may or may not be happy depending on what it is because it's new to you and it's a new situation.
Watch more on Smarter Loans' YouTube channel
About Smarter Loans
Smarter Loans' mission is to help Canadians make smarter financial decisions through educational resources about Canada's most innovative financial products and connecting Canadian consumers and businesses with top financial companies in a fast, safe, and convenient way. With a focus on both personal and small business lending, Smarter Loans compiles company profiles for top financial companies in Canada, offers loan finder tools to make it easy to find the right loan, and shares educational content that promotes responsible lending in Canada. Visit Smarter Loans to learn more.